If you have a small bathroom, trying to make everything fit in the available space seems almost impossible!
Some of the problems we face are positioning of toilet, vanity, creating enough space for a shower and placement of all accessories.
I have summed up a list of tips which can help you make the most out of your small space.
Wall hung basins – This mostly gives a illusion of extra space, easy to keep clean underneath, can also place a few small items underneath.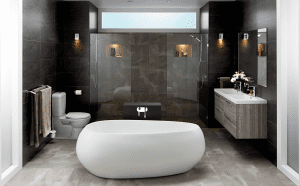 2. Bright and large wall tiles – Incorporating large white tiles always makes the space appear larger. Minimal grout lines also help with cleaning and maintenance (no mould build up on grout lines). Most common tiles are 30×60 white tiles. Tiling to the ceiling always helps brighten up the room rather than painted walls. It is also very common to contrast the floor with a darker tile so the bathroom doesn't appear pale or bland.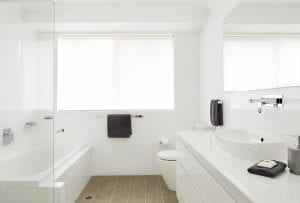 3.  Frameless shower screen – Clear shower screens give the illusion extra space and light. Frameless shower screens are easy to keep clean (no panels), and look amazing. A fully frameless shower screen doesn't create any visual barriers at all and can work perfectly in any sized bathroom. Simplicity is the key. We can incorporate a walk in shower with 1 fixed frameless glass panel, which provide ease of access and looks amazing!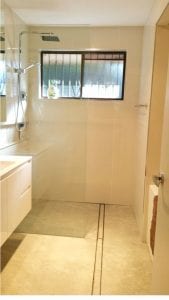 We specialise in small bathroom space designs and layouts. If your'e interested in our ideas and strategies for small bathrooms – enquire below!