Renovating a bathroom is a very simple process, although many get confused by the amount of options, colours, and designs available.
I have written down a few points below which from experience with all my customers will make your life a lot easier if they are clarified before quoting and renovating.
Have a design in mind and consider what carries the most value to your bathroom.
Bath or shower? Bath has a slight impact on resale value of a house which is vital to consider. Although removal of bath and conversion into a walk in shower will make your showering experience a lot more pleasant especially if the bath is barely used.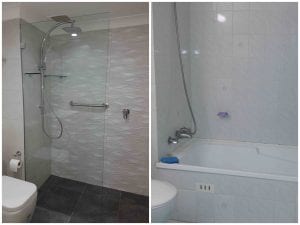 Large or small tiles? Large tiles have a benefit of making the bathroom appear much larger than what it is. Also, cleaning and maintenance are much easier with larger tiles as there are minimal grout lines which always mould down the track. Small tiles are back in trend lately and also help blend in with a more traditional style house. Keep in mind, small tiles require more time to install and will slightly bring the costs up of the renovation.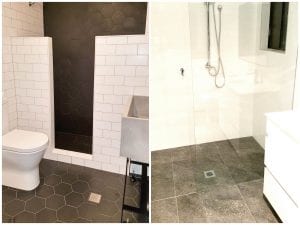 Australian or imported tapware? After renovating hundreds of bathrooms, Australian tapware has never let me down. They almost double the cost as opposed to the imported tap ware but are well worth the money if you are keen on a long lasting bathroom with no headaches. If you're after a quick sell, Imported tapware will get you by for a few years, if not forever (depending on your luck), although I have had problems arise in the past such as slight drip from shower, rubber washers melting etc. Keep in mind this is solely for tapware. I have had absolutely zero problems with imported vanities, toilets, mirrors etc.
Porcelain or ceramic tile? Porcelain tile is definitely the better quality tile. The colour runs throughout the whole tile rather than just the 'face', as opposed to a ceramic tile which has a 2mm colour finish and brown biscuit throughout.
Rain shower or basic shower unit? The rain shower heads deliver a wonderful showering experience as opposed to a basic 100mm universal shower unit. Although if you have weak water pressure, I would advise against this as there is loss of pressure due to the expenditure of the unit. If you have good water pressure than the rain is definitely the way to go.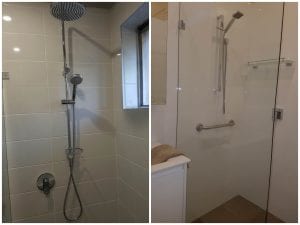 Freestanding or built-in bath? Freestanding baths have been in trend for the past 8 years. They create a modern sleek look to your bathroom. If you have space, freestanding is definitely the better-looking bath. Although you will have to consider the cleaning aspect. If the bath is against the wall and has a round shape, cleaning will be difficult and hard to access. There is always an option of the square freestanding bath which can be installed directly against the wall with sealed edges. The built-in bath is ideal if it's a shower/bath. They are cemented underneath and carry a much stronger base due to this. It is also a closed off finish as opposed to the freestanding.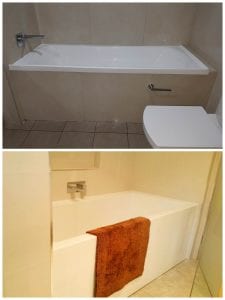 If you are after expert advice on renovating your bathroom, dont hesitate to contact us via email or on (02) 85419908.