Modern bathrooms create a simplistic and clean feeling. In order to design your modern bathroom make sure to utilize geometric
shapes and patterns, clean lines, minimal colours and mid-century furniture. Your bathroom can effortlessly become a modern sanctuary for cleanliness and comfort.
Since bathrooms are spaces that we use everyday, their importance is far greater than we give it credit for. From bright and cheery to sophisticated and imposing, modern bathrooms have long gone beyond the limit of space. These modern details transform dull bathrooms into fantastic relaxation and refreshing spaces. White and off whites are still top of the list in bathroom colour schemes but shades of grey are quickly moving up the list. A narrow space thrives on consistency and a refined palette. Pairing white with grey gives the space a modern look. Choosing large squared tiles will fool the eye into believing the space is larger than it actually is. Keep the accents minimal so the room feels sleek and uncluttered.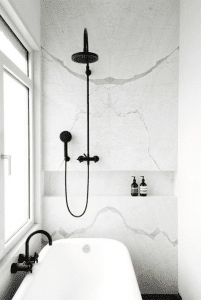 The beautiful contrast between the white tile and black fixtures in this bathroom means that no other ornamentation is needed. It also allows the faucets to really stand out.