Renovating your bathroom is a big investment in terms of both time and money, so it's important to do your homework before you start. While creating a budget and searching for the right designer are important pre-renovation tasks, so too is writing a bathroom wish list. Doing this will ensure you have a clear vision of how you want your revamped space to look, work and feel.
If you desperately need a spark of inspiration, reading up on the latest bathroom trends can help you get on track and pinpoint what you want and need. We've Rounded up a few for you below.
The growth of timber
Timber will continue to blossom in the bathroom, the use of timber products enable you to bring natural warmth into any bathroom space.
If you're interested in working timber into your bathroom, take ideas from this outstanding scheme and consider using the material in unexpected ways, for example as a wall covering.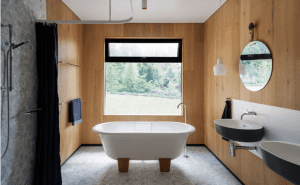 Creative tile patterns
Not sure what tile pattern to pick? A classic herringbone design (as seen here) will lend a hearty dose of visual drama yet classy appeal to any bathroom scheme. Other designs you might like to consider include windmill patterns or basket weave.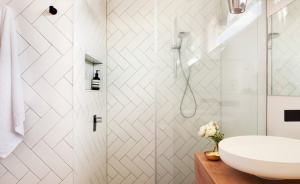 Nature lovers
Timber isn't the only natural material currently trending. More earthy materials like natural stone are also a great demand in bathroom renovations, not only on your floor and walls, but also on your vanity tops, sinks and baths, feature walls and bathroom furniture.
One way to bring the natural look to your new bath zone is to go for a kiln-fired ceramic or polished stone basin, instead of a standard porcelain sink.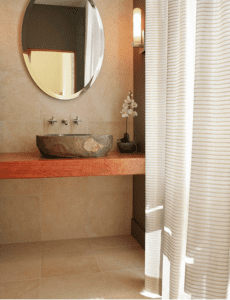 Industrial chic
If you're an industrial enthusiast, then this edgy industrial-inspired bathroom design will be on your list, which means you will be going for the use of concrete in your bathing area. Expect to see this cool, gritty material (or silky smooth if you prefer a polished finish) used not just on bathroom floors but as a wall surface, too.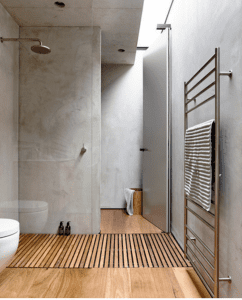 Concrete can make a space look cold and harsh. Introducing contrasting textures, such as timber, natural fibres and a plush bath mat and towels will help soften the look and add warmth and a welcoming vibe to the bathroom.
(Tile) size matters
Move over mosaics and slender subways, and make way for oversized tiles, this is a key trend. They have the benefit of creating a seamless spatial illusion, and they make cleaning a breeze with few or no grout lines.
Stylish, space-enhancing and a cinch to clean? This trend gets two big thumbs up